VIP SET UP GUIDE
This document is to provide step by step guidance on how to initially set up your HYROS account for an E-Commerce store.
The best way to use this doc is by completing the steps in the order they are presented. Simply click on the platforms/system that your business uses and ignore systems you do not use.
---
Step 1 : Setting Up Your Ads
Step 2 : Connecting Your Store
Written Guide
1- Use our integration HERE to integrate your store.
2- DO NOT adjust any settings or click configure after setting up. This is for advanced users.
If you are integrating multiple shopify stores ONLY: It's wise to add a unique tag to each store via "store tags" inside your shopify integration (eg "!Shopify1" or "!Shopify-US-Store"). This will later allow you to segregate your data by store in the reports.
3- Copy the universal script provided:
4- Go into your shopify account and place it on your shopify pages by going to online store -> themes -> edit code -> theme.liquid and inserting the code between the "<head></head>" tags as shown in the screenshots: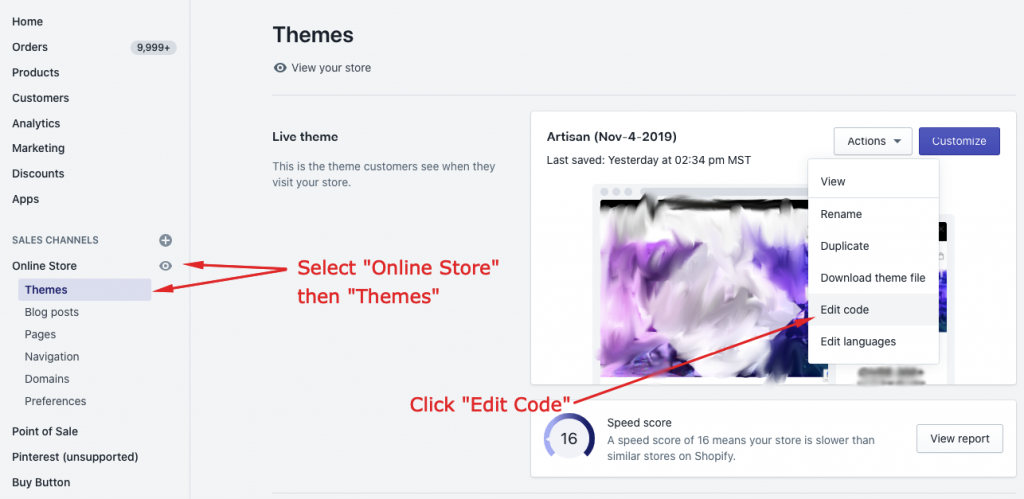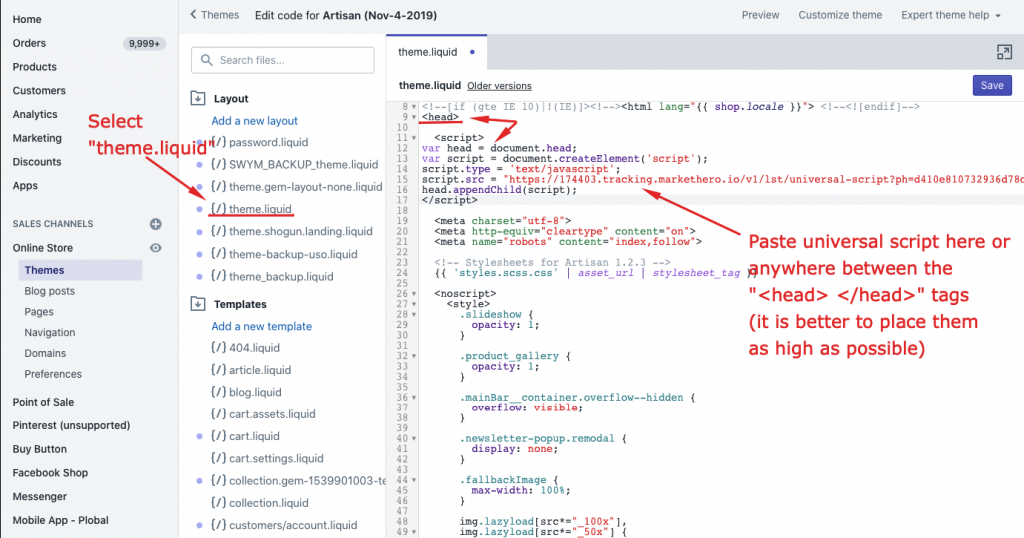 5- Flip the toggle/switch below that says "CONVERT TO CHECKOUT PAGE SCRIPT"
THEN copy the script provided.
6- Go to your Shopify admin dashboard. Go to SETTINGS at the bottom of your Shopify dashboards left side bar menu
7- Once in settings click on "CHECKOUT"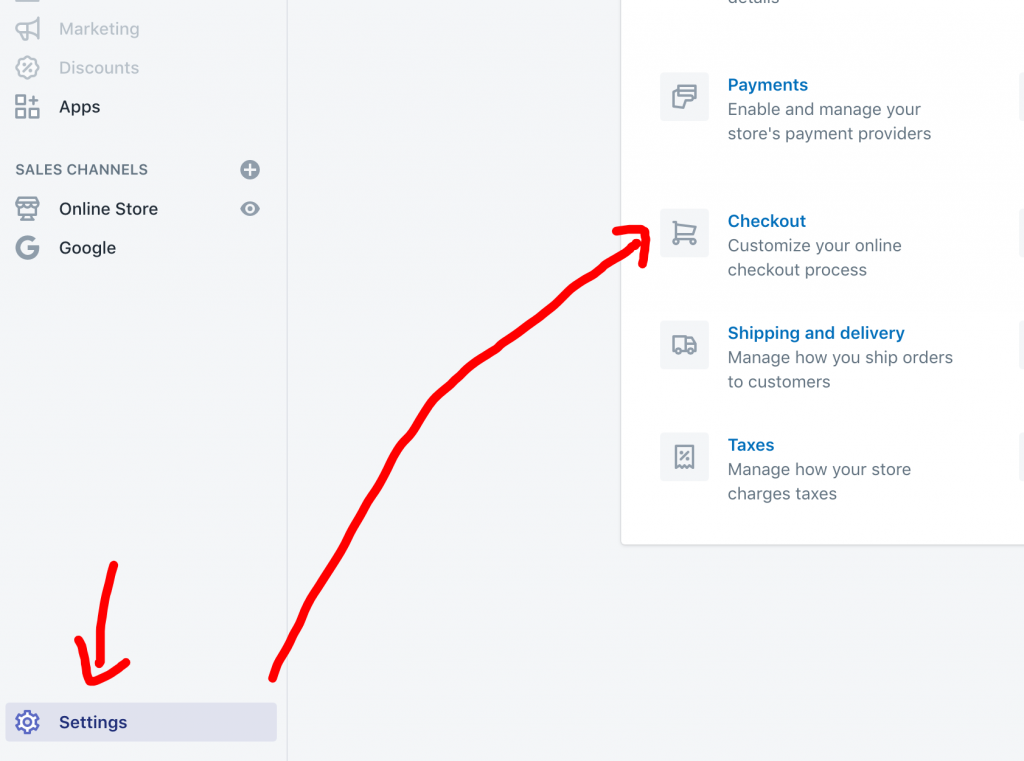 8- Once in checkout scroll down to additional scripts
9- Paste the altered Universal script from HYROS into additional scripts at the top of the scripts and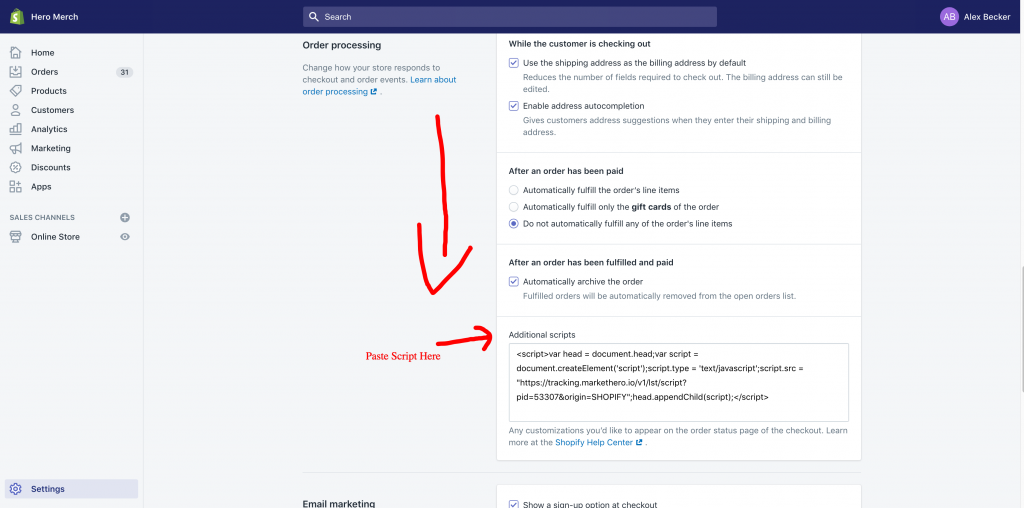 10- Click SAVE in the top right hand corner.
This will complete your Shopify set up. Move to the next step in this set up document!
If you are using Intrecart with Shopify complete the Shopify set up in the step above and then alert your direct onboarding rep. We will complete the Intrecart set up for you.
Video Set Up Guide
Here is a link to our WooCommerce integration
Here is the UNIVERSAL script referenced in the video
WooCommerce does not have written instructions because every WordPress site is different. When setting up your tracking in WooCommerce refer to the video above.
Then make sure that
-You have installed the UNIVERSAL script (above) is pasted on EVERY page of the site including checkout pages.
-You complete the WooCommerce webhook integration (covered in the video above).
You can generate your webhook HERE.
-Then perform tracking confirmation in the next step
Step 3 : Testing And Confirming Your Tracking
At HYROS we have a Chrome extension that will automatically test your tracking set up for you and find errors (if there are any)
We call this extension HSE (HYROS SET UP EXTENSION)
HSE makes it easy for you to test your ads, funnels and their tracking. The extension will pinpoint any errors in your set up and show you how to fix them. This eliminates the troubleshooting time of setting up tracking a TON
Follow the guide below to download and use HSE.
How To Download and Use Our Automated Testing Extension
You can download the extension here.
How To Use HSE (Written Guide)
To use HSE follow the steps below
1- Download the extension HERE
2- Once installed in your Chrome browser activate it in your toolbar by clicking the puzzle icon and then the pin Icon next to HSE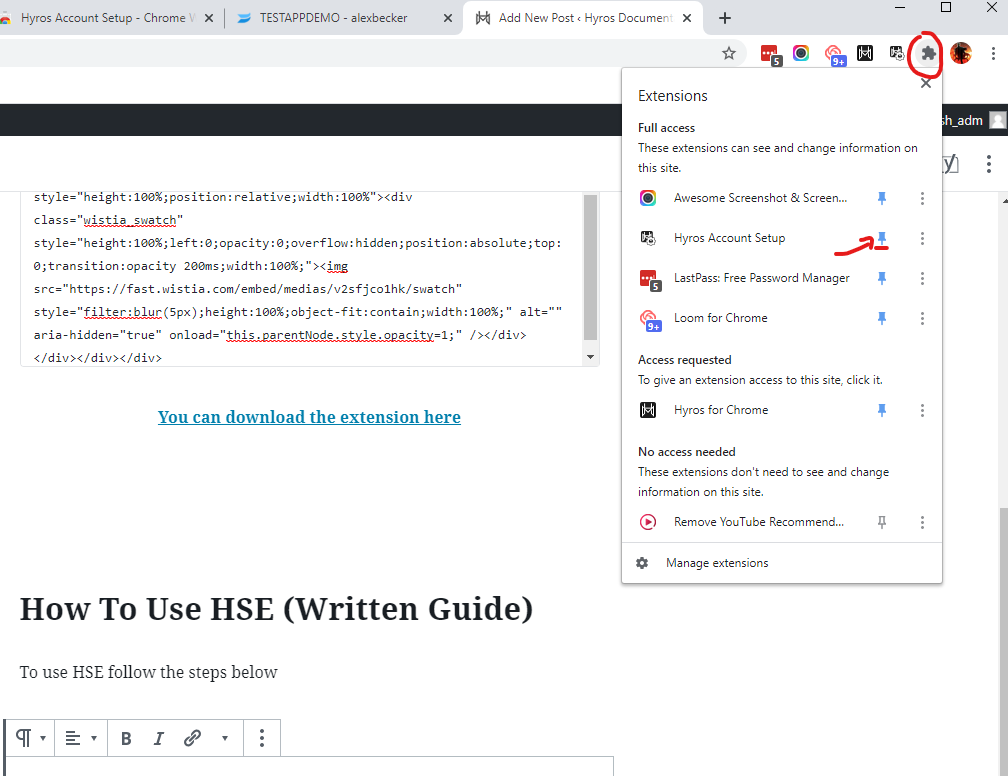 3- You will need your API key to proceed. Access your API key HERE in your HYROS dashboard
4- Click on HSE in your toolbar and enter in your API key.
5- Follow the prompts from HSE to test your tracking
NOTE: If HSE finds an error it will link you to an article that will show you how to fix the error!
Set Up Extension not working?
Please simply try clearing the browser's cache and reloading the app. If that doesn't work please contact your onboarding team or in-app support.
VIDEO TESTING GUIDE (Use this with the time stamps in the written guide)
Written Guide
PART 1 : CHECK ADS
Step 1 (02:15)- Ensure you are integrated with the correct Facebook OR Adwords account HERE.
Step 2 (00:12)- Ensure that you have placed URL parameters on all your Facebook and Google ads.
ENSURE if you are using PRODUCT GROUPS in Google ads that your PRODUCT GROUPS have URL parameters as well.
Step 3 (03:22)- Generate a preview or test link and click it.
WARNING : If you launch any new ads make sure the parameters are always updated.
PERFORM A LINK CHECK (03:22)
Check the URL you have been sent to. You should be able to clearly see FBC_ID=12345678 OR GC_ID=12345678 in the URL you have been sent to. (12345678 represents the adset or campaign ID in this example).
WARNING : ENSURE you do not confuse FBC_ID (our HYROS parameter) with "FBCLID" (Facebooks automatic parameter).
---
IF the URL parameter is clear and neatly in the URL move to PART 2 : COMPLETE A TEST CHECKOUT.
---
IF the FBC_ID OR GC_ID are not cleanly in the URL ensure that you placed your URL parameter in make sure you did STEP 1 : Setting Up Your Ads correctly.
For example : FBC_ID%%=%1232425% is a broken URL parameter.
Once you detect the error repeat the test in PART 1.
---
IF the FBC_ID OR GC_ID is not in the URL at all:
Confirm that your ad has the url parameter on it.
Confirm that you are not linking into a redirect. Redirects drop parameters on the final URL resulting in no tracking.
Once you detect the error fix it by placing your parameter or removing redirects. Then repeat the test in PART 1.
---
PART 2 : COMPLETE A TEST CHECKOUT (05:13)
Step 1 -From the same browser you click your ad with complete a checkout.
PERFORM CHECK
Step 2 – Wait 2 minutes and then check your HYROS dashboard reporting area.
Step 3 – You should see the sale appear in the system under CUSTOMERS. Click the email of the the sale, then confirm that the sale has:
AN @tag representing the adset that was click.
A $tag representing the purchase.
Then click on "CLICKS" and confirm you can see the full url visit history of the lead.
---
IF the sale has all the data above congratulation! You are fully set up. Please ping your onboarding manager and they will begin optimizing your data.
---
IF the sale does not have an IP address or click history or any other data in the check above the tracking script have likely not been placed correctly.
Check your Universal script placement in STEP 2 : Connecting Your Store.
If you find an error repeat the test in PART 2
If you cannot notify your onboarding manager.
---
IF the sale does not have the @tag representing the ad the sale came from ensure you have integrated the correct Facebook account.
Then ensure you completed STEP 1 : Tracking Your Ads correctly. If an error is found repeat the test in PART 2.
If no error can be found, notify your onboarding manager.
---
IF the sale does not come in at all confirm you have fully integrated with your store in STEP 2 : Connecting Your Store.
If you find an error repeat the test in PART 2.
If no error can be found notify your onboarding manager.
Once you're done with the setup process, please do the following
If you have a onboarding manager message them on Facebook and ask them to test your funnel
Learn how to use HYROS by taking this PRODUCT TOUR