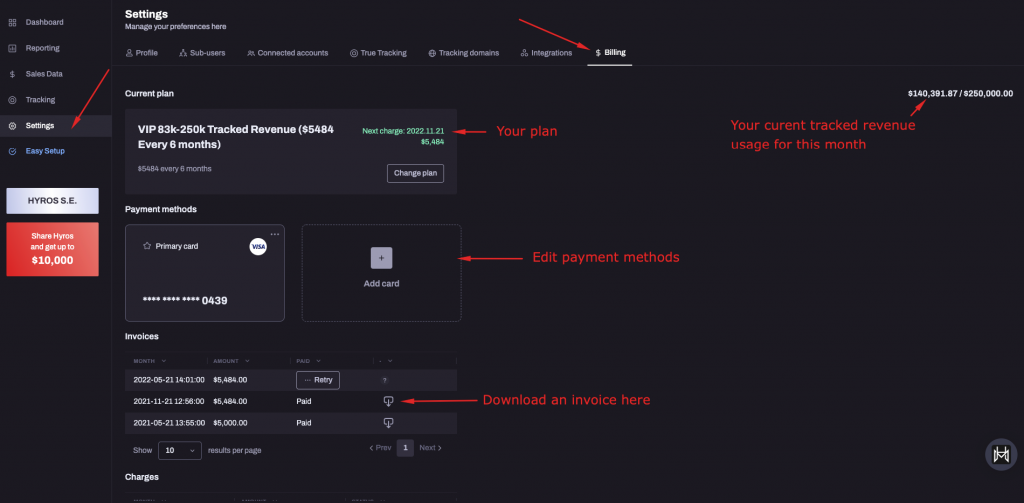 What is included in the "tracked revenue" limit and when does it reset?
Each Hyros account is billed according to how much monthly tracked revenue it has. By tracked, we mean any revenue from sales that are attributed back to any source, including revenue from refunded or deleted sales.
Revenue from sales not attributed back to a source is NOT counted in your monthly limit.
Your tracked revenue allowance will reset on the first day of each month.
How do payments work?
Hyros is a subscription-based tracking software, meaning by joining you have accepted a payment to be made automatically at the beginning of each billing period, the length of time which can vary depending on the plan you have selected.
What happens if I surpass my monthly allowance?
If you have received a warning message recently, it's possible you may be approaching or have surpassed your monthly tracked revenue allowance.
First, DONT WORRY. The data you have tracked will remain tracked, and you will still have access to the data within the limits of your subscription.
Any data that surpasses your monthly allowance will continue to be tracked in our system and will be retrievable if you decide to upgrade your subscription to include this data.
How do I change my subscription plan?
To upgrade or edit your subscription, you can select the option to upgrade shown on the warning message if you are approaching or have surpassed your limit.
Alternatively, you can easily access your subscription information, including your current monthly tracked revenue and an option to change your plan inside your BILLING SETTINGS.

Please be aware that it is your responsibility to keep your plan up to date. We will never automatically or manually make changes to your plan without express permission from you.
If your revenue is less for a certain period and you fail to downgrade, we will not be able to provide a refund for any tracked revenue not used.
What happens if I upgrade my subscription before the end of the billing period?
You will be charged a prorated fee when you change your subscription. This means you will be charged the difference between your current subscription and your new one, minus the amount of time you have already spent in your current billing period. Before changing your subscription the exact amount will be calculated for you before the charge is made.
Seeing more revenue recorded than you have?
This could be caused by an incorrect inbound currency in your settings. It is VERY important to configure your unbound currency correctly. For example, if you have your inbound currency set to USD (by default), but you're actually using pesos, Hyros will assume that number is in USD and you will reach your cap much faster than you should. More details on currency conversion can be found HERE.
How do I get an invoice, or make an edit on my invoices?
You can simply download an invoice under the "invoices" section in your billing settings, as shown in the screenshot at the top of this guide.
If you wish to edit the details on the invoice, please change any details you wish in your profile settings. The invoices will be generated based on these settings: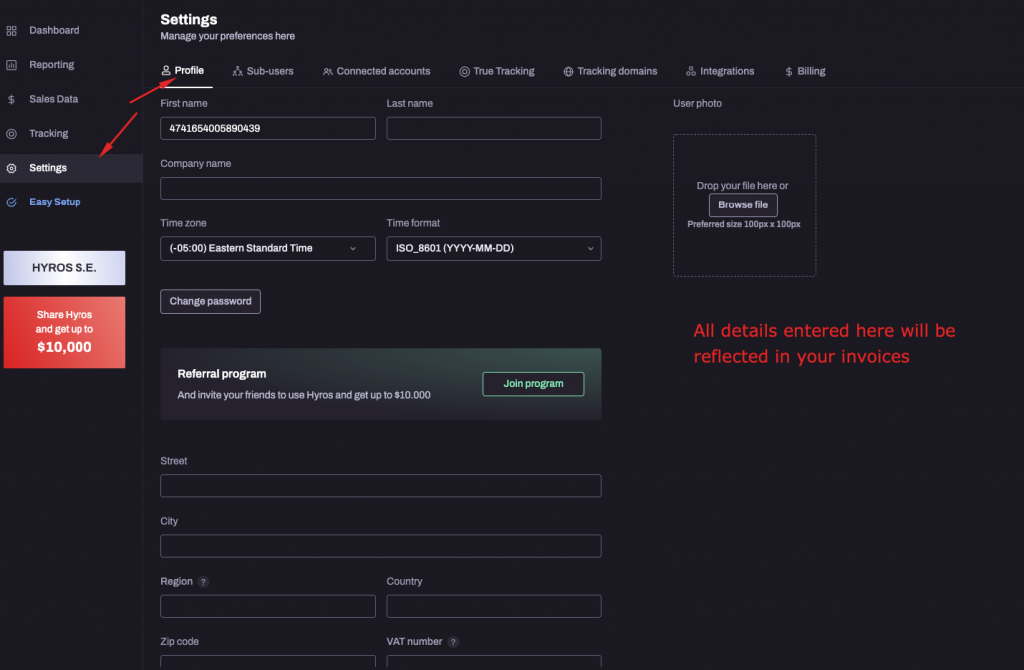 If you have any questions about billing, please do not hesitate to reach out to the support team.