Video Guide:
Hyros tracking parameter: ?lnk_id=
(You will need to find the campaign ID and paste it after the "=" as shown in the video)
Written Guide
Step 1 – Add Integration Inside Hyros
Go to your integration settings and find the Linked In integration HERE.
Click "add account", then name the integration however you like.
You will then be redirected to Linked-In and be asked to log in, do so and then select the ad account you would like to track with.
Step 2 – Add the Linked-In Tracking Parameters to Your Ads
First, find the campaign ID here: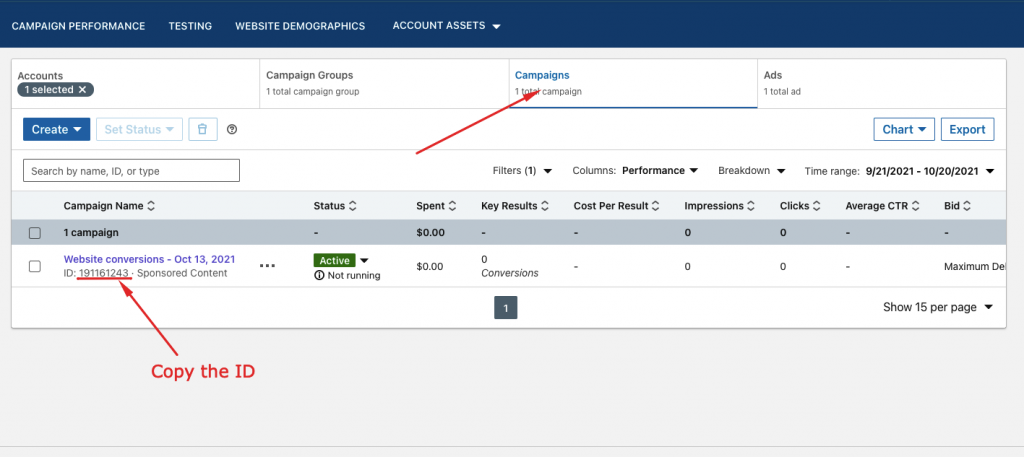 Next, add the campaign to the end of our Linked-In Tracking Parameter: ?lnk_id=
So in this example, the campaign ID is 191161243, so the parameter we will use on all ads in this campaign is ?lnk_id=191161243
After, go to your ad and select "edit", paste the whole parameter with the campaign ID at the end of your destination URL as shown in the dropdown below:
If you have multiple utms already, then you need to add our parameter at the end of them with an "&" instead of an "?". For example, the URL should look similar to this:
www.hyros.com?utm_source=LinkedIn&lnk_id=191161243
You can also add the parameters in exactly the same place when creating new ads.
Step 3 – Testing your Ads
To test your ads, click the drop down on your ad and select "preview". Then click on the call to action button.
Once your landing page has loaded, you should see our tracking parameters and your campaign CLEANLY inside the URL:
As shown above, your URL should look similar to this:
www.hyros.com?lnk_id=191161243
If the hyros UTM parameter and/or the campaign ID do not show up cleanly in the URL or do not show up at all, then please check the following:
Ensure you do not have any redirects on your ads. The URL set in the ad should match with the final landing page URL.
Ensure the parameters were attached correctly and there are no typos etc.
Please also ensure you are previewing the ad EXACTLY as shown in the above example, some previews do not pass on the parameters correctly.
If you have done all of the above and still can't find the issue, please reach out to the support team. Otherwise, the Linked-In ad setup is complete.