If your business sends a lot of emails it's very important that you track your email marketing after completing the initial set up.
WARNING: Before setting up email tracking PLEASE ensure that your funnel is being tracked correctly and the Hyros Universal script is on all of your pages.
Email Tracking Setup
Please select the dropdown depending on the specific email / messaging automation software you are using to setup tracking:
FAQs
As you may have noticed, we have 2 different parameters which perform different functions that we advise adding to your email links:
For example, for active campaign these are: "?he=%EMAIL%&el=email"
Which can be split up into:
"he=%EMAIL%" AND
"el=email"
he=%EMAIL%
This will generate the email of the lead and add it to the landing page URL once they click on the link inside the email. So if the lead "example@hyros.com" clicks on your email link it will generate a URL such as "www.yourlandingpage.com?he=example@hyros.com".
We use this to ensure we track that original email on the rare occasions that the lead comes back via email with totally different data points on a different device and then uses a different email.
So if they came back later in these circumstances and purchased using Hyros@Purchaseemail.com, we would be able to still track that email and therefore the purchase back to "example@hyros.com" and therefore continue their tracking profile from the original ad click.
This particular section is mostly useful for businesses with longer journeys. For e-commerce businesses or any business with a very short journey, this parameter is not totally necessary and can be removed.
See a video explanation for this specific parameter below:
el=email 
This is the part of the parameter that actually creates the source. When we read the "el=email" parameter in the URL we will create an "@email" tag.
You can also change the name after "el=" to change the tag, so for example "el=emailcampaign1" will create a source named "@emailcampaign1". This is useful if you want to track sales back to a specific email campaign.
If you have standard UTMs such as "utm_campaign" attached to all of your emails already, you don't need to use this parameter. You can instead generate a dynamic URL rule following this guide to create a source based on this UTM, which will allow you track events back to a specific campaign automatically:
You often do NOT want to include email sources on reports because they will take credit for the last clicks on many sales. This will make your ads look like they are not performing since email will take all the credit.
It is also very hard to see the results of email marketing because ads will take a lot of credit as well. Mixing these two traffic sources together can be messy.
We solve this by letting you filter out ads or email/organic sources when viewing reports. Inside Hyros email is treated as an organic source by default.
You can use this filter to view both, just email or just ads. This will give you a much clearer view of how email and ads are working on their own and together.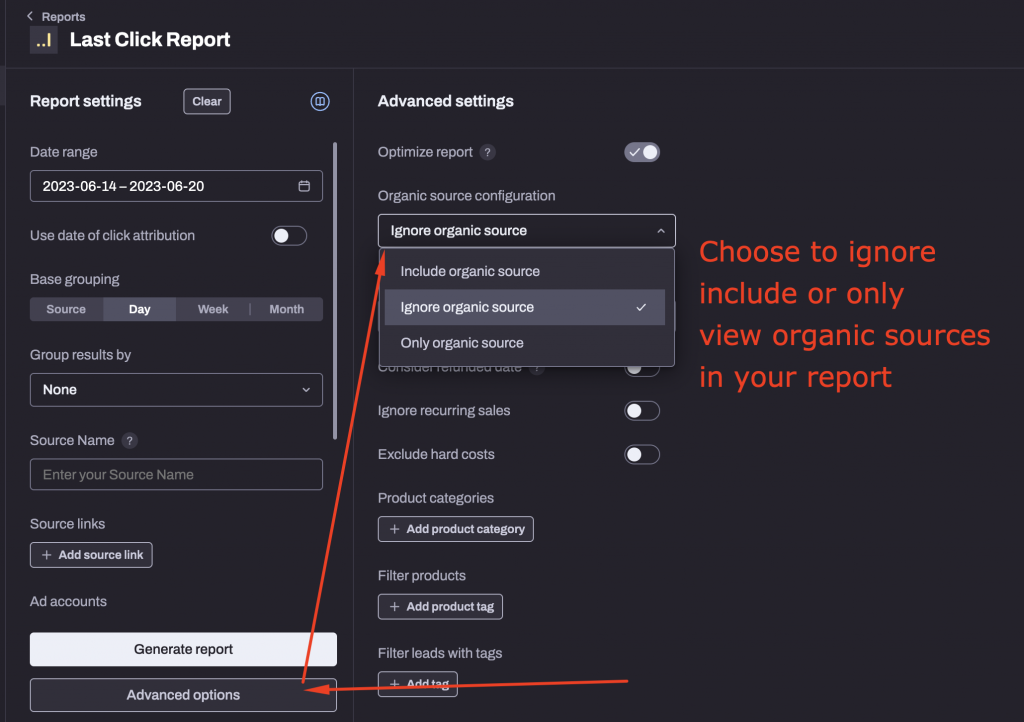 Note that one of our email parameters may trigger this warning if the Facebook pixel is on the same site: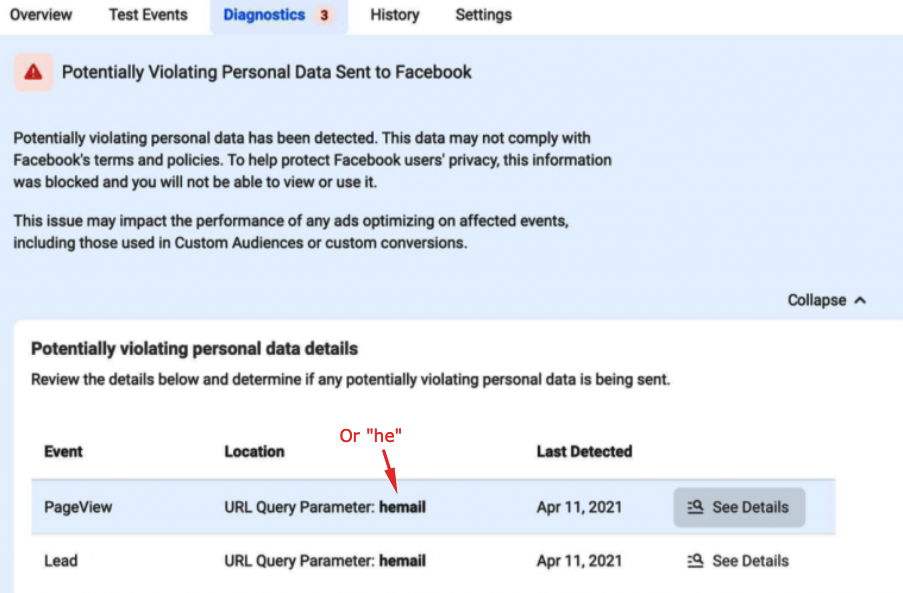 From experience, we have not been able to confirm any cases where this has caused any major issues so far.
Our current interpretation of this is that Facebook are just warning you that they can not use that data, which they never did in the first place. This data is used by Hyros only, so ignoring this should be fine.
HOWEVER please take this as an interpretation only, we can not predict Facebook's behaviour with certainty. This is your responsibility, and if you want to be safe then there are 3 solutions for you to choose from:
Go to your pixel settings and under "automatic advanced matching" open up the advanced options and toggle off any information that has been flagged by Facebook (this can negatively effect your event match quality):


Remove the parameter causing the issue. For example, if it is the "he=" parameter, then remove that parameter from your email links and just use the "el=email" parameter or UTMs to track your sources.
Please see the explanation on what the "he" parameter does under the "How does tracking work?" dropdown for more information.
Remove the pixel from your site.